High Purity Extraction Solvents
Designed for medical and food grade applications
Gas Innovations remains the world leader in high purity hydrocarbon gases for essential oil extraction. We lead with safety and a product guarantee backed by decades of experience. Our high purity products are teamed with strict standards ensuring the highest quality, most consistent packaged solvent products available. Contact one of our gas specialist today and learn more about the Gas Innovations advantage. Contact Us.
Gas Innovations is a producer, purifier and packager of high purity hydrocarbon gases. Products are refined, distilled and designed specifically for critical applications that require guaranteed purity. We utilize our expertise / experience in a wide variety of specialty applications to engineer products that maximize results / yields. Our goal is long term sustainability, developing specialty products with regulations and compliance in mind. Do your research, beware of misleading information and deceptive online "distributors". Trust the experts, See FAQ's Below.
Extraction Solvents (Non-Odorized)
Highest purity products available
Dedicated lines, filters, pumps & hoses
Solvents are pre distilled & ready for use
We do not salvage residual product
Specialized processes in place to ensure purity & eliminate potential contaminants
State of the art onsite laboratory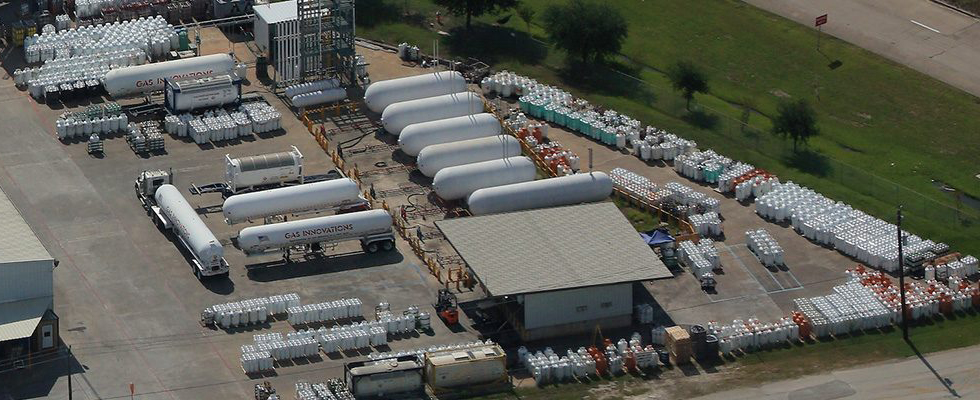 1. Specialty Packaging – Stainless Steel Cylinders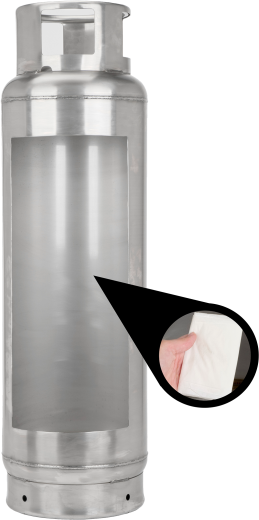 Gas Innovations Specialty Gas Cylinders: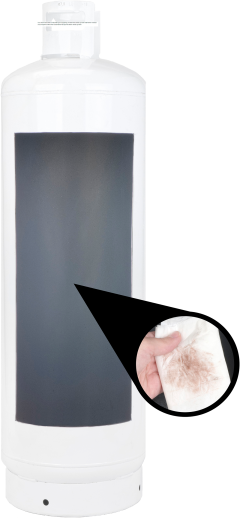 Carbon Steel Industrial Gas Cylinders:
* Carbon steel cylinders can break down over time introducing non-volatile residue (rust) and other contaminants.
2. Process Controls / Quality Standards
Competitors / Top Filling Refill Procedures: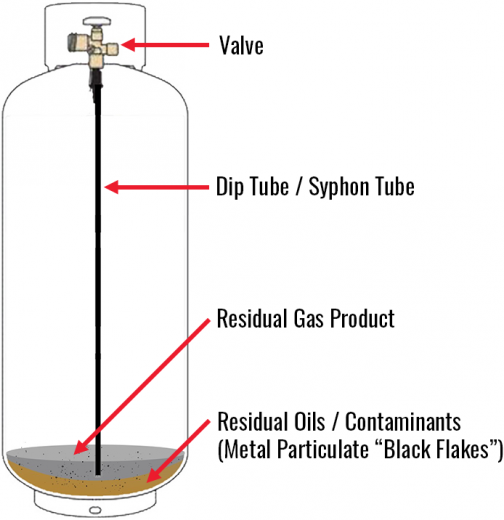 Top Filling – Filling gas product on top of residual gas & unknown contaminants.
 Gas Innovations Refill Procedures: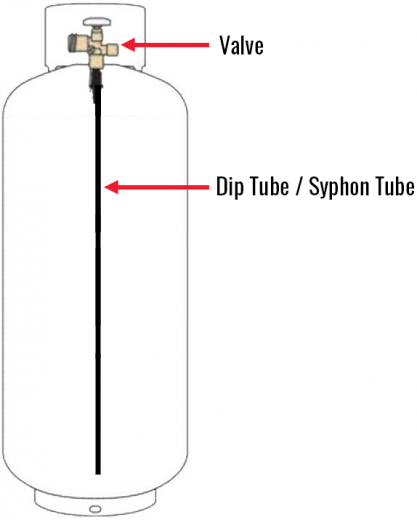 Evacuation - Residual product removed
Inspection - Internal wash if necessary
Vacuum - Remove air / moisture.
Fill - Max allowed by DOT.
Analysis - Certified product (COC).
Examples of residual oils / unknown contaminants. * Note a passive distillation may remove some solids but will not remove contaminants with similar chemical composition (ex. Benzene, Hexane).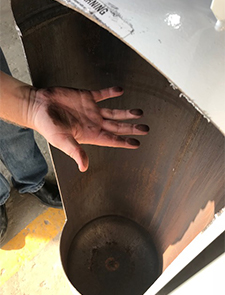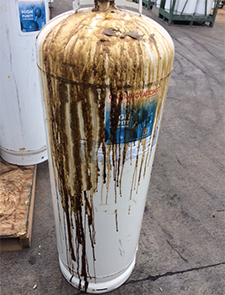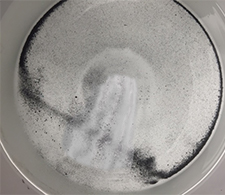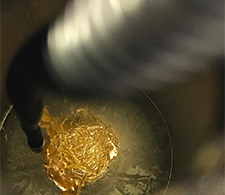 Specialty Valving Procedures
Gas Innovations also implements specialty valving procedures to minimize contamination. Valving is an abrasive process, and multiple de vales and re valves should be avoided. Each time a cylinder is de valved / re valved it can jeopardizes the integrity of the valve threads and introduces metal / debris into the cylinder.
Cylinder / valve preparation
Shown in the table to the right are the metals / contaminants introduced during the industrial valving process.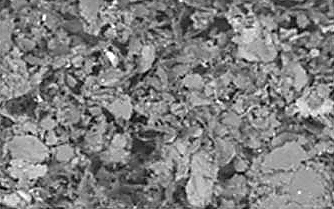 | Element | wt% | Suspect Source(s) |
| --- | --- | --- |
| F | 54% | Thread sealant tape/paste |
| C | 34% | Thread sealant tape/paste, weld soot potential, 304L SS |
| Fe | 3.2% | 304L SS |
| Cu | 1.9% | Brass valve/plug |
| Pb | 1.9% | Brass valve/plug |
| Cr | 1.1% | 304L SS |
| Al | < 1% | Unknown |
| Si | < 1% | 304L SS |
| Ni | < 1% | 304L SS |
| S | < 1% | 304L SS |
| Ca | < 1% | Unknown |
| Cl | < 1% | Thread sealant tape/paste |
3. Analysis / Traceability

Guaranteed Quality / Traceability. Gas innovations onsite laboratory uses FID (Flame ionization detector) to certify product at parts per million (PPM). Cylinders are tested after fill to ensure quality. Certificate of conformance (COC) list your cylinders serial #'s ensuring products meets purity standards. Competitive products only reference source material, not what's in your cylinder. No analysis, no traceability.
*GI utilizes a dedicated cylinder fleet for high purity solvents. This eliminates cross contamination and unknown impurities that can be introduced from different industrial applications.
Certifications and Analysis
We provide comprehensive analytics quality control.


Each order is accompanied by a certificate of conformance at no additional charge.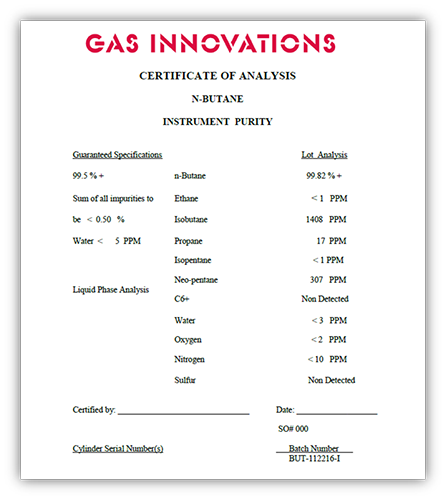 Frequently Asked Questions:
Q: Is there such thing as Food Grade / Medical Grade butane?
A: There is no food grade or medical grade butane (Just deceptive marketing). The industry standard for extraction solvents is 99.5%+ non odorized products. It's important to have a complete analysis (COA) at PPM certifying the products purity and listing any impurities. *Be on the look out for benzene and hexane as they are toxic for consumption.
Q: What is top filling a cylinder?
A: Top filling is refilling a cylinder that has not been evacuated, and put under vacuum.  Instead gas product is filled right on top of residual product and unknown contaminants. This is common among industrial gas filling operations. See Gas Innovations Refill Procedures above for more information. Top filling into cylinders leads to inconsistent purities, uneven mix ratios and unknown contaminants.
Q: What causes black flakes / particulate in my cylinder?
A: This particulate is left over from the cylinder's manufacturing process. All carbon steel cylinders rust over time and is accelerated in the presents of moisture. These solvents do their job and will dissolve any non-volatile residue (rust) from the cylinder wall. An internal wash can minimize this, along with an in line micron filter. To eliminate particulate and residual oils we would recommend a stainless-steel cylinder as is used in most critical applications.
Q: Why is purity important?
A: The higher purity the product the more consistent the product. Meeting higher purities like 99.5%+ requires removal of impurities and contaminants. Lower purity products vary in purity and can have higher amounts of harmful contaminants ( ex. BTEX, C6+, Hexane, Alcohols & Acetone).
Q: Do I need to distill my products?
A: Gas Innovations products are pre distilled and ready for use. The term "distillation" in the extraction community is more of a "passive distillation" which is filtration. This may remove some solids/ particulate but will not eliminate contaminants with a similar chemical composition (ex. Benzene). Save downtime with GI's guaranteed pure products.